BaaS Project presents the third newsletter
The third newsletter of the BaaS project has been published in the Web page and LinkedIn. This third issue is focused on the demonstration pilots (ZUB building in Germany, CARTIF offices in Spain and Sierra Elvira school in Spain). The following link is available to access the full newsletter.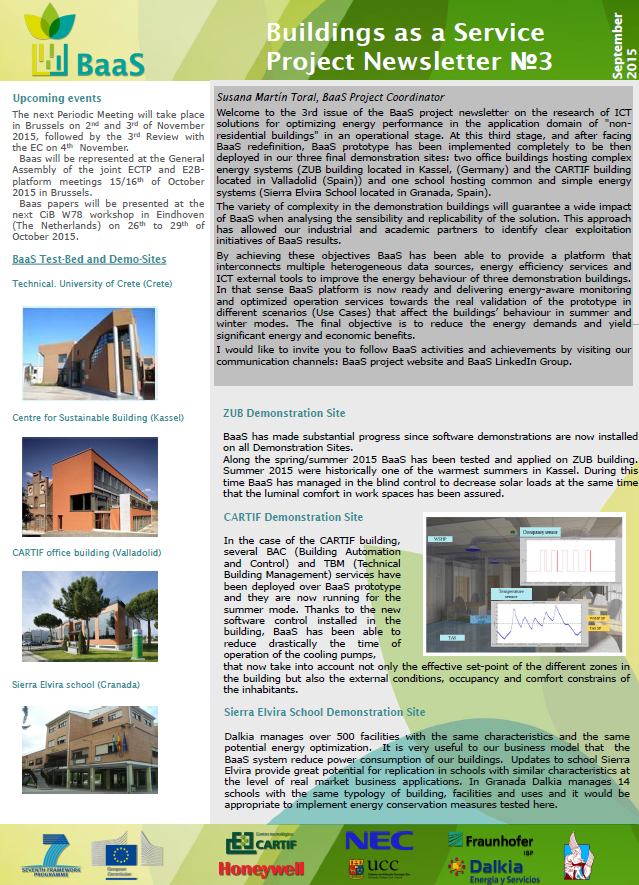 The newsletter has been released during October 2015 and start, as usual, with the welcome from the coordinator. Regarding the content, it is basically summarised in the next bullets:
ZUB building: During summer, a control strategy with regard to the blinds has been applied in order to decrease the solar loads and the visual discomfort. 

CARTIF offices: Control strategies and fault detection services have been deployed in summer mode. Thus, the operation time of the cooling equipment has been drasctically reduced taking into consideration additional parameters than in the original design. 

Sierra Elvira school: As long as the school does not operate in summer, the news are related to the deployment of degradation detection services so as to support better maintenance.